In the fast-paced world of professionals, where time is of the essence, maintaining a polished and presentable appearance can be a daunting task. However, looking well-groomed and put-together is crucial for making a positive impression in the business world. The good news is that with the right knowledge and a few clever hairstyling tricks, even the busiest professionals can effortlessly achieve quick and polished hairstyles.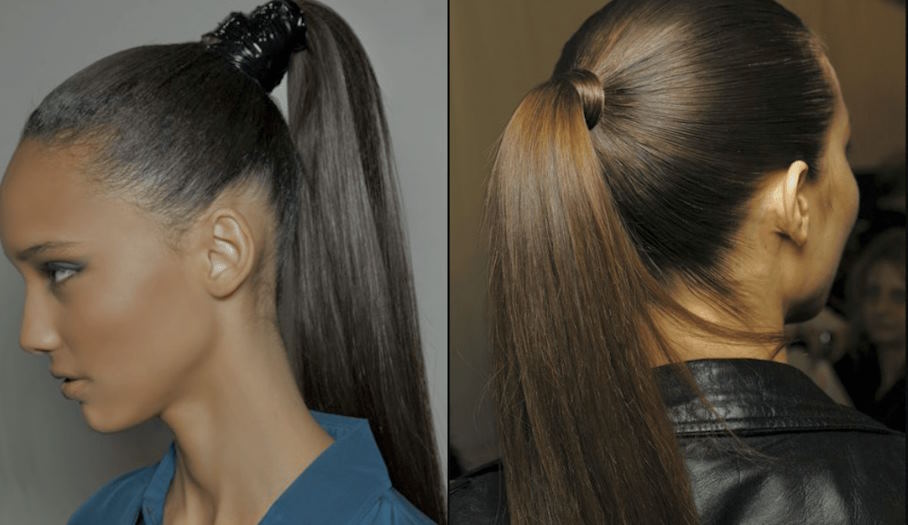 Quick and Polished Hairstyles for Women
When time is limited but style is non-negotiable, mastering quick and polished hairstyles becomes essential for busy professionals. Fortunately, there are several effortless yet chic options that can elevate your look in minutes. Here are five hairstyles that will help you achieve a put-together appearance without sacrificing precious time:
Sleek Low Ponytail with a Side Part: This timeless hairstyle is a go-to for its simplicity and sophistication. Start by creating a deep side part and combing your hair back into a sleek, low ponytail. Use a small amount of styling gel or hairspray to tame any flyaways, and secure the ponytail with an elastic. For an extra touch of elegance, wrap a small section of hair around the elastic to conceal it.
Classic Bun with a Twist: Elevate the traditional bun by adding a twist. Gather your hair into a high ponytail and secure it with an elastic. Twist the ponytail and wrap it around the base, creating a bun. Secure the bun with bobby pins and adjust it to your desired shape. This simple yet polished hairstyle works well for both formal and casual occasions.
Quick and Easy Updo with a Hair Accessory: Accessorize your hair to instantly elevate your look. Start by gathering your hair into a high ponytail and securing it with an elastic. Twist the ponytail and wrap it around the base, forming a bun. Secure the bun with bobby pins. Then, add a stylish hair accessory such as a decorative clip, headband, or jeweled pin to instantly transform your updo into a statement hairstyle.
Half-Up, Half-Down Hairstyle with a Twist: This versatile hairstyle strikes the perfect balance between casual and polished. Start by taking a small section of hair from each side of your head and twist them toward the back. Secure the twisted sections with a small elastic or bobby pins. Leave the remaining hair flowing for a soft and effortless look. This style is perfect for those days when you want to showcase your natural waves or add subtle curls for extra texture.
Effortless Waves with a Curling Iron: Achieve a beachy, undone look with minimal effort using a curling iron. Take small sections of hair and wrap them around the barrel of the curling iron, holding for a few seconds before releasing. Repeat this process until all sections of your hair have been curled. Once done, gently tousle your hair with your fingers to create loose waves. Finish with a spritz of texturizing spray for added volume and hold.

Time-Saving Styling Techniques
For busy professionals, finding ways to streamline your hairstyling routine is essential. With a few smart techniques, you can achieve stylish looks without spending excessive time in front of the mirror. Here are some time-saving styling techniques that will help you look polished and put-together in no time:
Blow-drying Tips for Efficient and Effective Results: To speed up your blow-drying routine, start by gently towel-drying your hair to remove excess moisture. Apply a heat protectant spray and divide your hair into sections for easier handling. Use a round brush to lift the roots and blow-dry your hair in a downward motion, following the brush with the dryer. Finish with a blast of cool air to set the style. Remember to keep the dryer moving to avoid overheating and damaging your hair.
Utilizing Hair Accessories for Quick and Stylish Fixes: Hair accessories can be your secret weapon for creating quick and stylish looks. On days when time is limited, opt for a chic headband, a colorful scarf, or decorative hairpins to instantly elevate your hairstyle. Whether it's a sleek ponytail or a messy bun, adding an accessory can transform your look and give it a polished finish in seconds.
Using Heat Styling Tools Effectively to Save Time: When using heat styling tools like curling irons or straighteners, it's important to work efficiently. Section your hair and focus on the areas that need the most attention. For loose waves, curl just the mid-lengths and ends, leaving the roots untouched. If you prefer straight hair, focus on smoothing the top layers for a sleek appearance. Remember to use a heat protectant spray before styling and set your tools to an appropriate temperature to prevent damage.
Overnight Hairstyles for Minimal Effort in the Morning: Maximize your time by styling your hair overnight. For loose waves, braid your slightly damp hair before bed and secure it with a hair tie. In the morning, undo the braids and finger-comb your hair for effortless waves. For added volume, tease the roots gently. Another option is to twist damp hair into a bun and secure it with a soft hair tie or silk scrunchie overnight. In the morning, release the bun to reveal natural-looking waves. These overnight hairstyles require minimal effort and provide you with stylish results while you sleep.